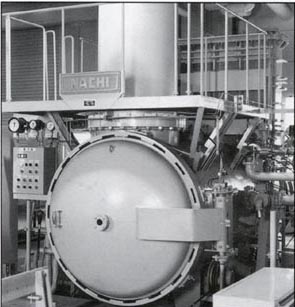 Model EVHP-182415 5 bar. pressured nitrogen gas rapid-quenching furnace for cutting tools of high speed tool steel.
VACUUM FURNACE provides:
High Quality
Excellent brightness and free from oxidation, carburising and decarburizing!
Distortion-free and hours off for machining after heat treatment from bright surfaces!
Long life for tools compared to other heat treatment processes!
Wide applications for quenching, tempering, annealing.
Model

Work Space (mm)

Capacity
(Gross Charge)

Width

Length

Height

EVHF-182415

450

600

375

150kg

EVHP-243614

600

900

350

300kg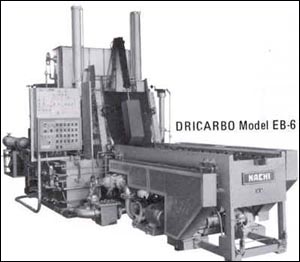 DRICARBO furnace are used for carburizing, carbonitriding, and bright quenching ferrous alloys for increased surface hardness wear resistance and fatigue strength for example Bolts, Nuts, Screws, Automative parts, Machine parts, Hand tools and etc. DRICARBO process has special vapered fluid supplied into the furnace to provide necessary atmosphere without the additional atmosphere gas generator.
Box Type
Model

Work Space (mm)

Capacity
(Gross Charge)

Width

Length

Height

EB-6
G-6

600

900

450

350 kg

EB-10
G-10

750

1200

600

800 kg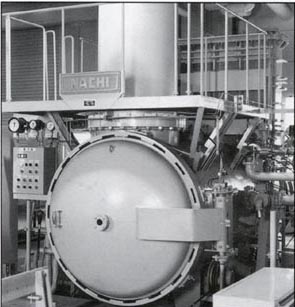 DRINITE furnaces are used to impart wear resistant, fatigue resistant, corrosion resistant and seizure resistant characteristic for ferrous alloys.
DRINITE process is a new nitriding and nitrocarburizing method developed by NACHI based on its years of experiences and a low temperature heat treatment carried out in a partially dissociated ammonia atmosphere enriched with the DRINITE liquid.  In the features many advantages over the conventional nitriding process by saltbath, simple operation, pollution-free, bright finish of work preces, etc.
Pit Type
Model

Work Space

Capacity
(kg at 570oC)

Dia

Depth

EMN-2040

500

1000

270

EMN-2448

600

1200

340