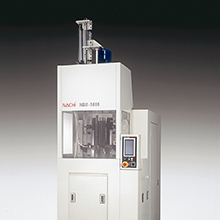 A unique maker with expertise in both machine tools and cutting tools, to help you respond to demand for more diverse and sophisticated machining, we have developed various technologies and know-how.
Providing overall support for reliable machining that ensures consistent quality, we have proposed processes that meet your needs for MQL and hard finishing and have developed machine tools that embody high speed, high performance, and flexibility.
HARD BROACHING MACHINE HW-5008

High-Speed Table-up System for Finishing/Broaching of Extremely Hard Materials
High-precision Finish Broaching of Materials with High Hardness Level
Highly Efficient Broaching
Excellent Workability
Energy & Space Saving
Workpiece transfer type broaching machines BV-T-*S series

Workpiece transfer type internal processing machines
The nation's first and epoch-making workpiece transfer type
Space saving
Easy installation for space saving by rational layout
Lower working position results in better maintenance and operation.
Mechanical workpiece transfer type broaching machines BV-T *MS series

Workpiece transfer mechanical type internal processing machine
A power-saving, High-efficiency, High-precision mechanical system
Compact and space-saving because of pit-free workpiece transfer system and hydraulics are not used
Realized FMS by ATC and automated setting of cutting conditions
Small size broaching machines NBV series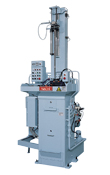 Low-floor type small size general purpose machine
Internal broaching machine of simple construction and space saving
High productivity from keyway to spline cutting
Vertical internal broaching machines NUV series
General purpose compatible with heavy cutting machine
For mass production with multistation available
High rigidity to withstand severe cutting
PRECISION ROLL FORMING MACHINE PFM-X series
Environment Friendly, Semi-Dry Roll Forming
Power consumption is reduced by electric power drive and semi-dry rolling.
High precision roll forming through NC synchronization.
Change-out procedure is simple.
Small size Precision roll forming machines PFM-330E

Environment friendly for energy saving
Motor drive (elimination of hydraulic system) reduced consumption energy
Correspond to semi-dry roll forming which requires no coolant
Stable machining accuracy
Compact and space saving
Easy setup change
Vertical NC precision roll forming machines PFM series
Most suitable and stabilized rolling conditions to greatly improve machining accuracy
Compact, energy saving, and low noise NC machines
Horizontal Precision roll forming machines PFL series
Cutting accuracy is stabilized even with high load rolling
Horizontal, rigid machine for high efficiency

Machining System for High Precision Surface Finishing of Crankshaft Bearings
Space saving
Energy saving
Improved maintainability
Improved Productivity
Flexibility
Roundness is improved by solid back-up stone
Size control by in-process and post process gauging system
(Option)
Combination of different grit film generates high grade bearing surface
Roundness is improved by solid back-up stone
Size control by in-process and post process gauging system
Combination of different grit film generates high grade bearing surface
Power finisher LF 740/1500/1800

General purpose machine for crank shaft and cam shaft
Mass production machine configurable in one, two or three stations