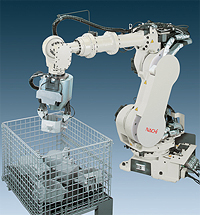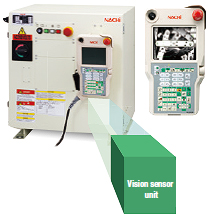 High-speed, high-capability systems
A visual device has been imbedded and unified with an AX control device, realizing high-speed processing. (Measuring Time (compared to conventional devices of our company): 2D: 60%, 3D: 83% increase in speed)
Equipped with a part search tool which is not affected by the direction, size or exterior irregularities of parts.
Equipped with stereo recognition function
Uses our independently developed stereo vision algorithm to measure the 3D position of work.
Even for bulk work within the pallet, the robot performs position offset and removes work.
Cross laser 3D sensor
Cross laser irradiation makes it possible to recognize the tilt, height and holes of work in 3D position.
Optimal for removing bulk sheets and boxes.