Weld Timer Integrated in Robot Controller
The intelligent all-in-one package
Servo gun, weld timer and other welding functions are all integrated in robot controller.
Easy to set up welding conditions. Excellent for controlling weld quality.
Air cooling for superior maintainability and reliability.
High Speed
Robot controller and timer controller are fully integrated.
Increased speed 3.5% by thoroughly reducing wasted I/O processing time between weld timer and robot controller. (compared to regular timer)
Greater productivity coupled with high-speed of SRA series.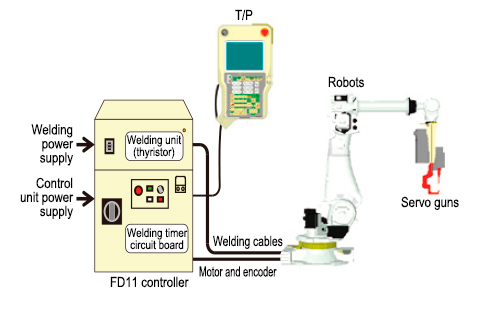 Improved Operability & Full Traceability Function
All weld timer functions can be set from the robot's teach pendent (welding parameters, stepper counter, welding history, and welding conditions)
Welding history of up to 9,999 welds possible.
History data can be exported.
Track signs of abnormalities on graphic display of welding current.