1. Changes in market needs
Gears are incorporated into a number of products as important parts that comprise the driving system and the control mechanism in a variety of fields, including automotive and industrial machinery. While gear shaping is performed using machine tools, namely lathes (turning), machining centers (drilling, etc.) and gear shapers (gear cutting), there are increasing needs for flexibility to adopt multiple-product production, greater efficiency and cost reduction, space saving, etc.
2. Our company's initiatives
In October 2012, Nachi-Fujikoshi developed and introduced the GM7134, a gear shape machining center that targets medium to large gears by integrating the three processes necessary for gear machining (from turning and drilling to gear cutting) into a single machine tool, enabling a substantial equipment cost reduction.
With increasing demand for reduction gears against the background of the trend for electric and/or fuel cell vehicles in the automobile industry and the expansion of the robot market, our company has developed and is now introducing the GMS450, a super accurate high performance integrated skiving machining center for gears, for medium to large gear machining processes in the fields of automotive and industrial machinery and construction machinery, whose market is expected to expand increasingly in the future. Our company, as one of the few manufacturers producing gear shaping machines, gear cutting tools, and robots, will make further efforts for the advancement of automation at customers' manufacturing sites.
3. Features of GMS450 skiving machining center for gears
(1) Super accurate, high performance shaping A newly designed super-rigid guide and high torque spindle and the adoption of the latest control technology have enabled super accurate, high performance skiving gear shaping. While the shaping time is reduced to one fifth of that of a conventional gear shaper, the GMS450 secures gear accuracy of JIS grade N6 (corresponding to the former JIS grade 2) and handles gear shape controls such as crowning.
(2) Handling hard skiving Carbide skiving cutters are able to achieve the high precision finishing of gears after heat treatment.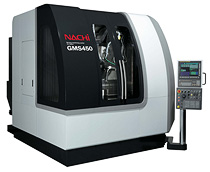 (3) Integration of turning, drilling, and gear cutting processes 
Together with skiving gear shaping, the integrated turning and drilling process reduces the number of set-up change processes, and achieves compact and smart production lines capable of responding flexibly to production changes.
(4) Smallest installation space in the class
Lathes with the combined processing and integration of drilling machine processes achieve a 60% reduction in the installation space
(floor space:2→9.7m2).
A skiving gear shaping machine with a workpiece size of Ø450 achieves the smallest installation space in the class.
(5) Interactive operation screen that provides easy program creation
4. Specifications and price
| | | | |
| --- | --- | --- | --- |
| · | Maximum workpiece diameter |  : | Ø450mm / 120mm |
| · | Maximum module |  : | m4.5 |
| · | Automatic tool changer |  : | tool storage capacity of 6 or 22 pieces |
| · | Machine size (width × depth × height) |  : | 2,500mm × 3,860mm × 2,700mm |
5. Future efforts
Our company is introducing the GMS450 to the market in October 2016, targeting sales of 10 machines a year for industrial machinery, construction machinery and gear manufacturers.
In addition, in combination with the very popular lightweight, compact robots, the MZ series and the EZ series, we will conduct sales promotion activities in response to the requirement for the systemization and automation of entire processes, including processing, washing, deburring, inspection, etc.
Please come and see the new model GMS450 at the JIMTOF2016 exhibition and view its smooth, easy-to-use skiving gear shaping for yourself.
6. Contact for information on new products
Machine Tool Division, NACHI-FUJIKOSHI CORP.
Phone: +81 (76) 423-5140